READING TIME:
3
min.
are bringing you a
Mommy Meetup
benefiting The Birthday Party Project!
Join us on
Wednesday, October 7th from 2:30-4pm
for a casual get together with fellow Dallas metroplex moms for a little play time and a special afternoon treat with your kiddos!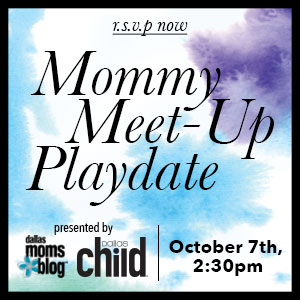 Up to 40 children and their moms will be able to gain access to Gymboree Play & Music of Dallas for a special Dallas Moms Blog & DallasChild event benefiting The Birthday Party Project.
Typically, a Gymboree Play & Music class is reserved for members who are enrolled; however, Gymboree is reserving their afternoon just for us and our children to get our "wiggles" out! Come meet other Dallas mommies and the DallasChild & Dallas Moms Blog staff and writers!
What does $5 admission (per family) get you? A goodie bag with fun products from local businesses, snacks and beverages for all in attendance, entries for fun giveaways by Gymboree Play & Music of Dallas, Dallas Zoo, and Texas Discovery Gardens, plus a private sample class from Gymboree Play & Music:
Children ages

birth-24 months

, will be attending a sample class from 2:30-3:10pm.
Children ages

25 months – 5 years

, will be attending a sample class for you from 3:20-4pm.
Have children attending of different ages? Choose a time that works best for you!
During our short 10 minute break between classes, guests will be treated to goodie bags, snacks, and giveaways!
In addition, we're asking each family to bring donations for our partnering non-profit organization The Birthday Party Project! The Birthday Party Project is a local organization that sponsors birthday parties for children who are homeless and works closely with Buckner, The Family Place, New Friends, New Life…to name a few. Their themed parties include activities and crafts, decorations, games, cupcakes, party favors, and more!
With over 180 birthday parties in 2015, they're always look for help collecting party supplies! They're seeking in-kind gifts to help with their efforts such as (unopened) hats, blowers, banners, badges, birthday candles, toys, table cloths, gift wrap supplies, etc. (See a complete Wish List here.)
Want to know more about us?
DallasChild (DFW Child) is an award-winning free monthly parenting magazine that address the concerns and needs of families, with a special focus on children from prenatal through adolescence. The magazines offer a well-informed, local and relevant perspective on issues affecting families and serve as both a strong voice in the community and a staunch advocate for children. At DallasChild, FortWorthChild and NorthTexasChild, we inform, educate, entertain, inspire and provide a provocative forum among parents, the community and professionals who work with children.
Dallas Moms Blog is a collaborative blog written by and for local moms with daily posts on things to do around town, ways to get involved in the community, parenting solutions, personal essays from local moms, local business spotlights, giveaways, and more. We know that it's difficult to get out and meet other moms when naps and eating and potty-training are calling for your attention – especially if you're new in town, new to motherhood, or both. This is our little attempt to make the world feel smaller and to encourage you that you aren't alone.
Gymboree Play & Music of Dallas has been fostering creativity and confidence in children ages 0-5 for over 30 years. Today there are over 550 locations in 30 countries, making them the global leader in early childhood development programs. Designed by experts, their age-appropriate activities help develop the cognitive, physical and social skills of children as they play. Their programs are also recognized for their unique approach to parent involvement—which encourages participation in and understanding of each child's development.
Disclaimer: Tickets are non-refundable, and this event will happen rain or shine. With advance notice we will attempt to connect you with another mom who is interested in purchasing your ticket should the need arise.